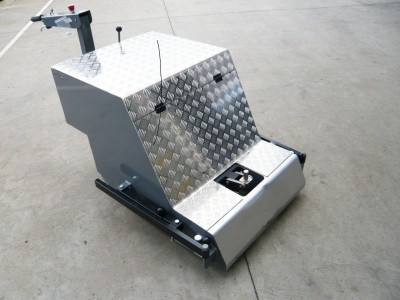 Tug Tough
Tug Tough
A heavy-duty battery-powered tugger for moving up to 22,000 lbs with optional lift mechanism rated to 11,000 lbs.
Heavy duty construction for heavy loads
Easy attachment to carts, with manual or automated hitches available
Quiet, smooth operation with zero emissions
Low maintenance, simple to use.
Larger capacities available upon request
COMMON APPLICATIONS:
Production: Moving heavy vehicles, tools, and racks through production line including heavy carts, part carts, mother-daughter carts.
Fabrication: Moving work-in-progress to stations
Maintenance: moving parts, equipment, trucks and engines in shop.
Built with heavy industrial applications in mind, the Tug Tough utilizes a powerful 48V drive system to allow a single operator to hitch to and move big loads. The fold-up tiller handle greatly reduces the space required for storing the unit.
The Tug Tough incorporates all of the features you would expect on a quality product, D.C. geared motors, a high capacity programmable controller, forward and reverse drive controls, variable speed control, automatic electromagnetic park brakes and emergency brake release.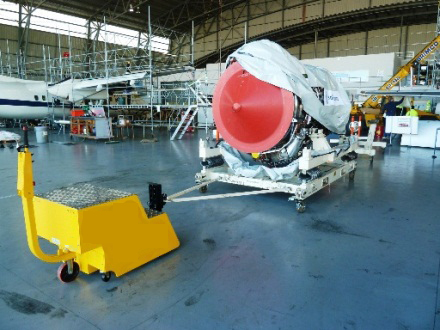 Tug Tough Pulls Jet Engie