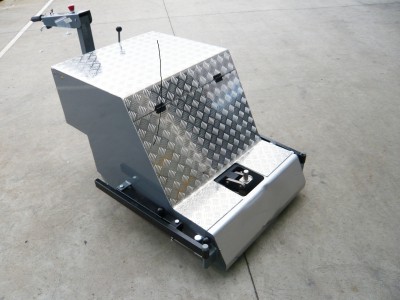 Heavy Duty Tug with Lift Option
Powered Carts and Tuggers
Our wide range of carts and tuggers includes custom and off-the-shelf solutions. First decide if you need an electric battery powered cart or an electric battery powered tugger.
It is usually fairly simple to decide, an electric tugger is used if you have something already on wheels and you want a machine to help you pull or push it. A battery powered tugger can hitch and unhitch from your cart. This allows one electric tugger to be used with many carts. It also allows you to use your cart "manually" when the tugger is not attached to the cart.
An electric battery powered cart, is "self-propelled" without the use of a tugger. A powered cart has a dedicated motor. This cart is always powered and, unlike the tugger, the battery and motor cannot be shared with other carts.
Battery Powered Electric carts are used at factories, office complexes, campuses, and other facilities for many general duty purposes. Other battery powered electric carts are designed for very specific applications. This would include a battery powered pharmacy cart, battery powered medicine cart, battery powered gas cylinder cart, battery powered mail cart, battery powered lift cart, and battery powered endoscopy cart. A battery powered electric cart can be provided for most any application.
Similarly, Battery Powered Tuggers can be used to move all sorts of carts, trucks and trolleys that would otherwise present a challenge if they would have to be moved manually. Tuggers are available in a range of sizes and are selected for a specific application.